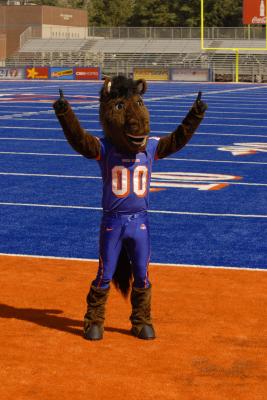 Today, we conclude our looks at the nicknames of 96 different colleges, most of which will be going to post-season play in a sport besides college basketball (I'm making fun of an ad for the NCAA which shows most student athletes going on to become chemists instead of becoming NBA superstars).
The three schools pictured here are the Boise State Broncos from Idaho, which have a highly touted football and women's gymnastics program, the Bucknell Bison from Lewisburg, Pa., which has a competive wrestling team and one of the very few water polo teams on the east coast, and the Iowa Hawkeyes, from the Big Ten.
In addition to Boise State, there are two other teams from the Mountain West Conference, including the San Diego State Aztecs, which is nationally ranked and a virtually certainty for a NCAA bid in men's basketball, and the Colorado State Rams, which are predicted to get an at-large bid.
Here are the teams, all of which are related to horses, knights, cowboys/cowgirls and Native Americans:
1. Army Black Knights, Patriot, West Point, NY.
2. Boise State Broncos, Mountain West, Boise, Idaho
3. Bucknell Bison, Patriot, Lewisburg, Pa.
4. Colorado State Rams, Mountain West, Fort Collins, Colo.
5. Iowa Hawkeyes, Big 10, Iowa City, Iowa
6. Illinois Fightin' Illini, Big 10, Champaign, Ill.
7. Oklahoma State Cowboys*, Big 12, Stillwater, Okl.
8. San Diego State Aztecs, Mountain West, San Diego, Calif.
9. Southern Methodist University Mustangs, C-USA, Dallas, Tex.
10. UNC-Greensboro Spartans, Southern Conference, Greensboro, NC
11. University of Southern California Trojans, Pac-12, Los Angeles, Calif.
12. Utah Utes, Pac-12, Salt Lake City, Utah.
*-Oklahoma State's women's basketball team is nicknamed Cowgirls