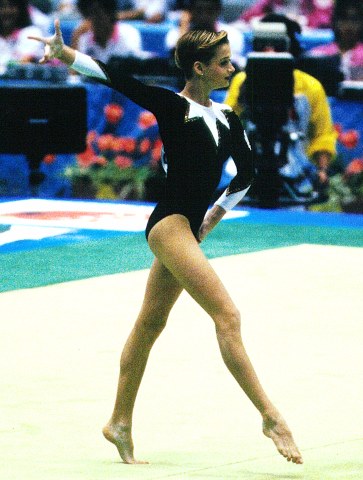 Today's quote/day week, our final one for April in our series of quips from gold or silver-winning Olympic international athlete (summer games); tomorrow we will start quoting famous American Olympians.
Last week, we quoted the Belorussian gymnast Svetlana Boginskaya; today we quote her names sake the Russian gymnast Svetlana Khorkina, 33, who won gold at the 1996 Atlanta Olympics and the 2000 Sydney Olympics on the uneven bars.
But, she is best-remembered for a series of equipment mishaps which plagued the Russian team in Sydney, forcing them to be awarded with silver medals at the games instead of gold; this quote is a reflection by Khorkina regarding those unfortunate series of events:
"I knew well in advance even before I stepped on the stage for my first event that I was going to lose."
SIDEBAR: There are perhaps very few people who would see both the slapstick/frat boy humor film "The Three Stooge," a modern update on Curly, Larry and Moe, and the French art film "The Kid with a Bike." But, I saw both films over the weekend, and for the most part, both were exactly what I expected.
For those of you living in the Washington, DC suburb of Farifax, Va., (not where I saw the films), you can "The Three Stooges" at United Artist Farifax Towne Center 10, while "The Kid with a Bike" can be seen at Cinema Arts Theatre.
The French is also playing at Galaxy Cinema in Cary (Raleigh), NC, and at the Aperture Cinema in Winston-Salem, NC.
http://www.cinemaartstheatre.com
http://www.mygalaxy.com
http://www.aperturecinema.com