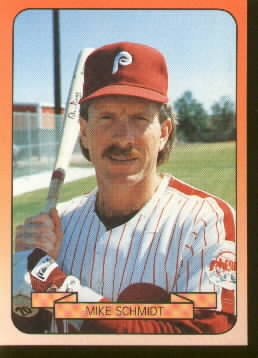 Today, I thought I would go with two baseball legends who were stars when I was avidly watching baseball as a little boy (I actually rarely watch baseball now!).
Back in 1980, when I was ten years old, Mike Schmidt helped lead the Philadelphia Phillies to a World Series championship by defeating the Kansas City Royals, a team that was once a perenial power.
Schmidt, now 61, is from Dayton, Ohio, and he graduated from Fairview High School. He played for the Phillies his entire career from 1972 until 1989. The third-baseman was a 12-time All-Star, and he was named National League MVP in 1980, 1981 and 1986.
Here is his quote:
"I could ask the Phillies to keep me on to add to my statistics, but my love for the game won't let me do that."
SIDEBAR: I was able to name all 43 of the American presidents (Barack Obama is actually classified as the 44th president because Grover Cleveland served two separate terms) in 4:47 on mentalfloss.com
It was actually my seventh or eighth try at achieving this. The last president who came to mind was Chester Arthur, the 21 president who was also a Republican. In case you are wondering, the new movie "Arthur" nor the original 1981 Dudley Moore film it's based upon have anything to do with President Arthur!