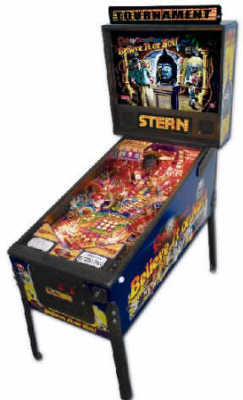 The rock band The Who had a memorable song from their rock opera "Tommy," about a blind pinball wizard who a miracolous sensation. Today, teenagers may have a hard time understanding the song because there are fewer pinball machines in existence that there were in 1976 when that song was popular.
The pinball machine is a coin-operated arcade game that was formally developed in 1931. The flippers were introduced in 1947. And, solid state electronics were formalized with the pinball game "Hot Tip" in 1977.
There was an initial decline in pinball machine useage in the 1980s thanks to the likes of video games, such as "Ms. Pac-Man" and "Donkey Kong." But, the pinball machines industry fought back by developing innovative pop culture games, such as "The Addams Family" and "Star Trek: The Next Generation."
The machines have again declined in the advanced hom video games Angry Birds era, though according to Wikipedia, the Illinois pinball company PinBall Manufacturing produced 178 reproductions of the the popular pinball game "Bing Bang Bar" in 2006.
Many pinball players are known to cheat by tipping the machines and even attaching a piece of string to a coin and lowering the counter switch to get free games.
Popular brands include "Dolly Parton" (1979) that was the brainchild of George and Dave Christensen who developed the pinball game for Bally.
There is also "Dirty Harry" (1992), which is based on the succesful "Dirty Harry"
(1971) film with Clint Eastwood which spurred many less remarkable sequels. This particular game, which I also saw at a laundromat in the hamlet of New Castle, Va., (near Roanoke) has sold for between $1,800-$4,000 via Internet auctions.
One can find a Pinball Hall of Fame museum in Las Vegas, which has 400 games.
Additionally, there is Rose City Pinball in Portland, Ore., which hosts weekly tournaments.