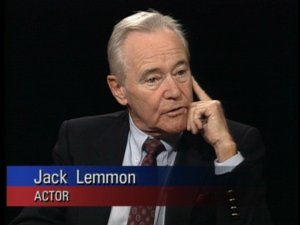 Today, we are featuring quotes from the late Jack Lemmon (1925-2001) and Sissy Spacek who co-starred in the highly political 1982 thriller "Missing" about the disappearance of an American journalist circa 1973 during a coup in Chile which gave power to right-wing dictator Augusto Pinochet (1915-2006). The quote from Lemmon will be on this blog, while the quote from Spacek will be on our sister blog "Politics, Culture and Other Wastes of Time."
"Missing" was shot in secret in Mexico by the left-wing Greek film director Costa-Gravas because the film indictes the American government of the time, particularly the likes of Henry Kissinger, which supported the controversial coup which remains a black mark for the former secretary of state under Richard Nixon.
The film was based on the real-life experience of Ed Horman, played by Lemmon, who joins his daughter-in-law Beth (played by Spacek) in looking for Charlie Horman, played by character actor John Shea.
I just saw the film a few years ago. Interestingly enough, "Missing" shared the top prize at the Cannes Film Festival with the late Turkish filmmaker Yilmaz Guney's "Yol" (actually directed by Serif Goren). That film was also highly controversial as it dealt with the impact of the 1980 military coup in Turkey and the film directly suggested the need for Turkish Kurds (Guney was ethnically Kurdish) to politically separate from Turkey, which remains a highly provacative issue in my late father Mehmet Gokbudak's country.
Coincidentally, my late uncle Ilhan Gokbudak was a high-ranking Turkish diplomat in Chile while Pinochet ruled the country in the 1970s. The dictator did not step down until 2000, and he died without ever being brought to justice for his many human rights abuses during his reign.
As for Lemmon, he was nominated for Best Actor seven times, including his lead role in "Missing." He won the Oscar in 1973 for his role in "Save the Tiger" over other highly-touted nominees, including Marlan Brando ("Last Tango in Paris"), Jack Nicholson ("The Last Detail"), Al Pacino ("Serpico") and Robert Redford ("The Sting.") Lemmon had earlier won an Oscar for Best Supporting Actor in 1956 for "Mister Roberts."
Lemmon starred in seven Billy Wilder films, including "The Apartment" and "Some Like it Hot" as well as ten films with Walter Matthau, most notably "The Odd Couple."
The late actor was idolized by Kevin Spacey who has also won Oscars in the two categories, including the Best Actor Oscar he recieved for the 1999 film "American Beauty."
Throughout March, we have quoted past Best Actor and Best Actress Oscar winners.
Here is the quote from Lemmon:
"Failure seldom stops you. What stops you is the fear of failure."