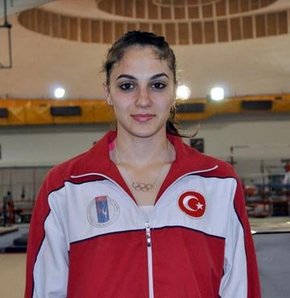 For the first time in the history of women's Olympic gymnastics, there will be a competitor from Turkey as Goksu Uctas, 22, will be representing Turkey at the 2012 London Olympics, which start in two weeks on July 27th.
Uctas, who was born in the southeastern province of Gazinantep, grew up in the Bolu province (some three hours east of Istanbul ) when her and her family had to come to terms with the 1999 earthquake which killed between 17,000 and 18,000 people. That quake had struck some of the most populated regions of Turkeys, including Istanbul and Bursa.
Uctas, who idolized Russian gymnast Svetlana Khorkina, trained outdoors as a nine-year-old child during that period in her young life.
For the first time ever, Turkey will send more female athletes than male athletes to the summer games, as three other Muslim countries, Saudi Arabia, Brunei and Qatar will send female athletes to the Olympics for the first time.
Uctas won a silver medal on vault at the 2009 Mediterranean Games in Italy; this year at two separate world events, the gymnast won gold in floor, silver on the vault and silver on the game (Czech Republic) and a bronze in floor (Qatar).
She has apparently become a media sensation in Turkey, and stories about her have been written in media outlets around the world.