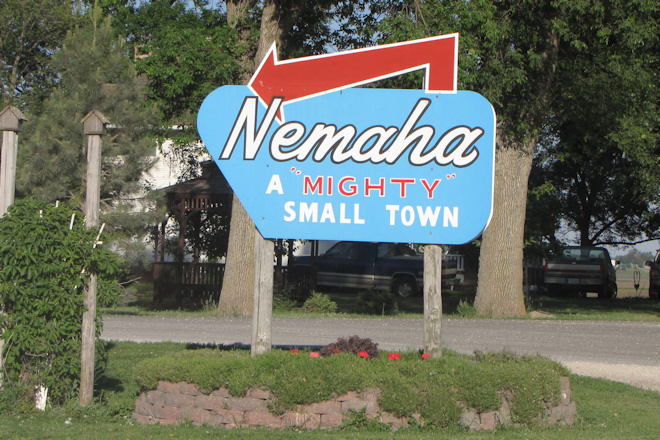 Here are tweets from tonight's debate from folks who are right, left, center and non-partisan. As everyone outside of Tashkent, Uzbekistan, probably knows Republican front-runner Donald Trump (pict. top) ironically boycotted the Fox News debate because of a feud with moderator Megyn Kelly.
The other images are of the eastern Iowa town of Nemaha (the debate was actually held in Des Moines) and an image of Jeb Bush (actually from an event in New Hampshire):
1) Erick Erickson (conservative): This is a brilliant part of the debate. Megyn Kelly's accountability project.
2) Cenk Uygur (liberal): I have to give credit to Fox News for asking really targeted and fair questions showing these candidates' clear hypocricy.
3) David Corn (liberal): Asked about immigration, Ben Carson points out that he declared war on ISIS.
4) Molly Ball (The Atlantic): Ivanka is due in two weeks, but Trump is hoping she has baby in Iowa: 'It'd be great. I'd definitely win.'"
5) Michael Ian Black: "Carson: 'I recognize not all Mexicans are terrorists.' Brave."
6) Michigan State Spartans Basketball: "With 15:18 remaining, MSU leads 41-29." (They wound up winning the game over Northwestern; yeah, this has nothing to do with the debate).
7) Ana Marie Cox (liberal): 'Chris Christie: I will flip flop in public so you can totally trust me." (Yeah, he didn't actually say that).
8) Michael Medved (conservative): If Ted Cruz wants to win anything, anywhere, he MUST learn not to talk like a bad, slimy televangelist. (Yeah, Medved did actually tweet this!)...
9) Chris Cillizza (Washington Post): Jeb Bush is getting better as a debater. But, he's not natural at all."