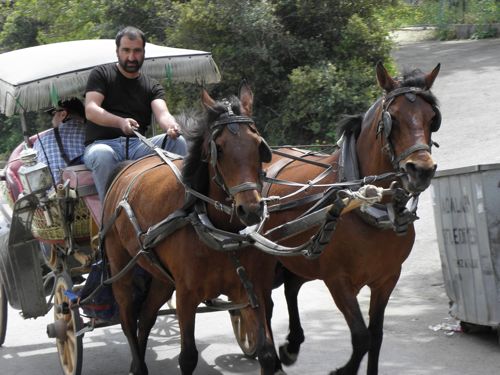 Yes, we know: "Always use people in photographs" is the conventional wisdom of journalism, but we are a bit rebellious and unconventional here at "The Daily Vampire."
On a serious note, we are saddened to hear about the death of Berkin Elvan, a Turkish youth who was hit in the head by a tear gas canister during street riots over the summer protesting Turkish Prime Minister Recep Tayyip Erdogan's Putin act (and, we are a bit subjective here as well). Elvan's death has triggered new protests all over Turkey, but it seems that a change in power in Ankara seems unlikely even though it is assuredly what is needed now.
Here are our looks at the times in other parts of the globe as Daylight Savings Time is in effect for both the United States and Canada and perhaps elsewhere.
We are going to assume the time is 8:00 p.m./20:00 in New York, which is the reason for the Brooklyn hot dog (top image) that might get us blocked in Internet cafes in Karachi, Pakistan, or Tel Aviv, Israel, but c'est la vie say the French, and when it is 8:00 p.m. in New York, it is this time in the cities listed below:
1) Chicago/Dallas 7:00 p.m.
2) Amsterdam 1:00 a.m.
3) Dubai 4:00 a.m.
4) Buenos Aires 9:00 p.m.
5) London (pictured center) 12:00 a.m./midnight
6) Sydney 11:00 a.m.
7) Istanbul 2:00 a.m. (pictured bottom, a horse carriage driver in Burgaz Island, Istanbul)
8) Mexico City/Salt Lake City 6:00 p.m.
9) Seoul 9:00 a.m.
10) Los Angeles/Vancouver 5:00 p.m.
11) Cape Town, South Africa 2:00 a.m. (same time as Istanbul and Athens)
12) Baghdad 3:00 a.m.
http://www.visitbrooklyn.org/
http://www.visitlondon.com/
http://www.qantas.com.au/travel/airlines/home/au/en
http://www.turkishairlines.com