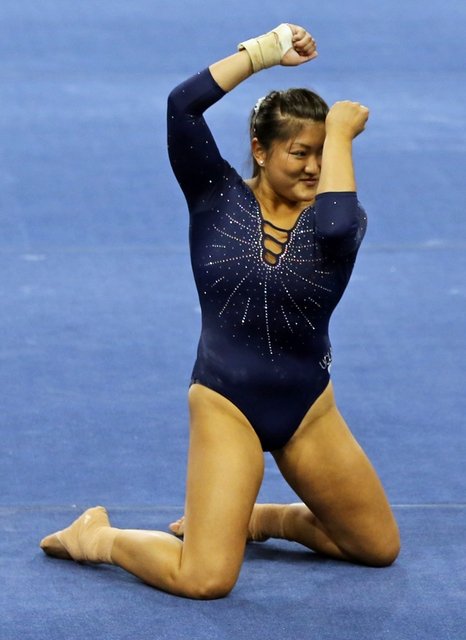 Of the 12 schools in the PAC-12 Conference, eight have women's gymnastics programs (Colorado, USC, Washington State and Oregon do not), so you may not see many Oregon Ducks t-shirts at a gymnastics meet. But, here are 10 gymnastics from those eight schools which have teams, UCLA, Utah and Stanford are seemingly possible contenders for the Super Six (equivalent of the Final Four):
1) Sydney Sawa, UCLA. Senior. (pictured top)
2) Aliza Vaccher, Washington, Senior. (pictured center)
3) Stephanie Miceli. Arizona State. Soph. (pictured bottom)
4) Georgia Dabritz, Utah. Junior
5) Selynna Felix-Terrazas. Arizona. Fresh.
6) Chelsea Tang. Oregon State. Junior.
7) Ivana Hong, Stanford. Junior
8) Alice Asturias, California. Senior.
9) Leilani Alferos, California. Senior
10) Allison Northey, Washington. Soph.
http://www.collegegymfans.com