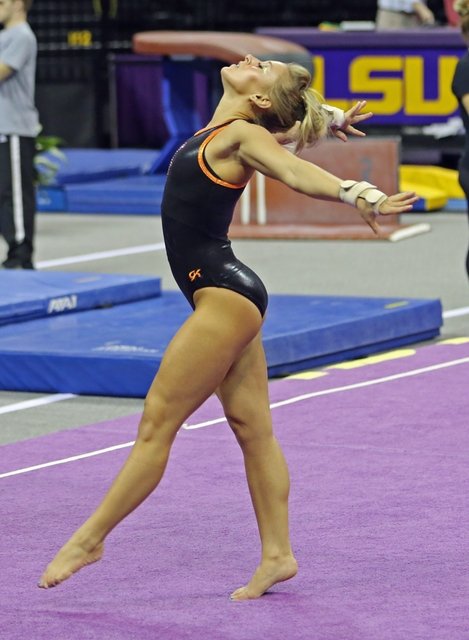 The University of Florida Gators are only the fifth school to win a NCAA Women's Gymnastics title; they join the ranks of UCLA, Utah, Georgia and Alabama. Each of those schools, except Utah, qualified for the Super Six finals.
In victory, the Gators edged out second-place Oklahoma, third-place Alabama, the two-time NCAA champ and fourth place UCLA, the host school. LSU finished fifth; Georgia came in sixth.
For Gators' Coach Rhonda Faehn, a UCLA alum in her 11th year as coach of Florida after a coaching stint at Penn State, the title comes after years of heart-breaking near misses, includes last year's NCAA Championships in Georgia.
The Gators team consists of two Olympians: British national Marissa King, who also celebrated a birthday on Saturday and American Bridget Sloan, who is a freshman from Pittsboro, Ind.
Other stand-outs on the squad include Kytra Hunter (pictured top), Randy Stageberg (pictured bottom), Ashanee Dickerson and Alaina Johnson.
Here is the order of finish:
1. Florida 197.575
2. Oklahoma 197.375
3. Alabama 197.100
4. UCLA 197.100
5. LSU 197.050
6. Georgia 196.675
We issued a SPOILER ALERT because the meets airs on ESPN-U at 8:00 p.m. on April 30th.
For a look at the individual results from today's competition, go to our sister blog:
http://www.politicscultureandotherwastesoft.blogspot.com