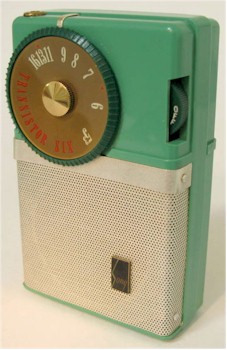 When young folks today listen to the classic Van Morrison song "Brown Eyed Girl" (1967) and they hear the reference to a transistor radio, they may have no idea what the great Irish singer is talking about.
The transistor radio is defined by Wikipedia as a small portable signal receiver using transistor-based circuitry. Pocket-size forms of the transistor radio, which were developed in 1954, had a major impact around the world as they changed the radio-listening experience as these devices were portable as opposed to earlier radios.
In the 1970s, the transistor radios began to lose popularity and by the 1980s, people of our generation (the Gen Xers) were all into the boom-boxes, leaving everyone to screech when the mid-80s Wham (the band with George Michael) hit ballad "Careless Whisper" blasted away. Yes, we still get goosebumps thinking back on those days.
Though Bell Labs first developed the transistor radio in 1947, both Germany (well then West Germany) and Japan were major players in the development of the technology for the device.
SIDEBAR: Yes, as of this writing, there are new Big South scores and one game between the visiting Charleston Southern Buccaneers and the home team Radford University Highlanders of Radford, Va. (the author's alma mater) is at half-time, while another game between visiting Campbell and the home team Liberty gets underway tonight, but we are just going to focus on the conference games from Thursday night.
The VMI Keydets pulled off another huge home win over Charleston Southern in a high-scoring 90-81 affair. Keith Gabriel scored 31 points for the Lexington-Va. school as his teammate Stan Okoye scored 17 points.
For the visitors from Charleston, SC, Kelvin Martin, the reigning Big South Player of the Week had a career-high 31 points despite the loss.
Here are the scores from Thursday night's Big South action:
*- home team
*Liberty 61 Coastal Carolina 57
*VMI 90 Charleston Southern 81
*UNC-Asehville 71 Gardner-Webb 61
Presbyterian 77 *Radford 64