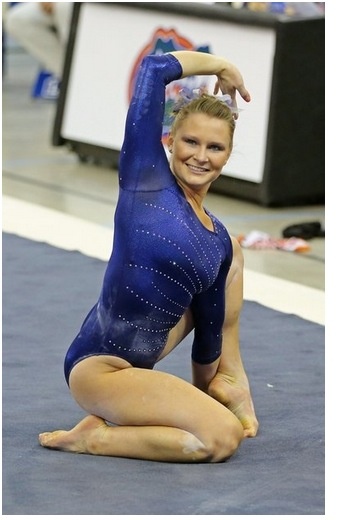 Greetings to our blog-readers in Russia, India and Brazil.
In the City of Angels (Los Angeles, Calif.), the top-ranked, defending NCAA champion Florida Gators met the fourth-ranked UCLA Bruins in a very significant early season meet before both teams face their respective conference rivals.
In the end, Florida won by a very narrow 196.625-196.650, with the Gators prevailing by a margin of .025.
The Gators team had won the 2013 NCAA title at UCLA, but Marissa King, on the team leaders for the Gators, had finished her last year of eligibility. But, the team still includes former Team USA Olympian Bridget Sloan (pictured top), who was the 2013 AA champ at the NCAAs, Kytra Hunter, and sisters Bridgette and Mackenzie Caquatto.
For the Bruins, the 2014 team features stand-out Samantha Peszek, Danusia Francis (pictured bottom), Sydney Sawa and Olivia Courtney.
The Gators swept the all-around with Kytra Hunter (39.375), Bridget Sloan (38.875) and Mackenzie Caquatto (37.300) taking the top three slots.
But, the Bruins featured many outstanding performances in their own right. Olivia Courtney scored a career-best on vault with 9.975 and on bars with a 9.900; on that event, Courtney tied for first with Bridgette Coquatto.
Courtney edged out Sloan, who scored a 9.925 on vault, while her teammate Sawa tied Hunter of Florida with a 9.9 on that same event.
Hunter won floor for Florida with a 9.925; Peszek won balance beam for UCLA with a 9.925.
But, the WOW moment of the meet came from Peszek's teammate Francis, one of two British gymnasts for the Bruins, a team which also features three Canadians, on the beam.
For that event, Francis, who finished with 9.900 on the beam, performed a sideways aerial into a full-twisting dismount.
We imagine it will get lots of hits on Youtube.
UPDATE: This is the corrected version of this story. A blog reader pointed out several errors we made, but like most people who criticize, he/she did not give me credit for spelling Mackenzie Caquatto's name correctly, so we will give ourselves a standing ovation!