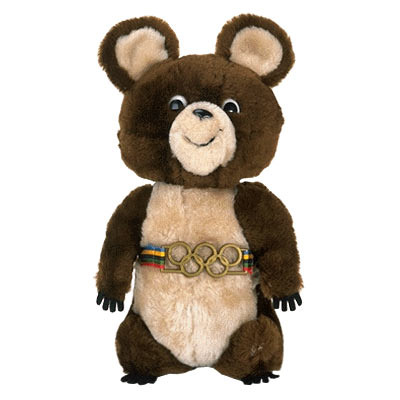 Since I'm a Turkish-American, I was hoping that Black Sea power Trabzonspor, the lone Turkish team in the UEFA Champions League, would pull through as they were expected to. But, CSKA Moscow went to Milan, Italy, and pulled a stunning 2-1 upset over Group B leader Inter Milan. This eliminated not only Trabzonspor, but the French team Lille. Trabzonspor and Lille played to a 0-0 tie yesterday.
Hence, we are posting an image of Misha the Bear from the 1980 Moscow Olympics, and in what is simply a ploy to arbitrarily get more hits on this blog, we are also featuring the famed 1993 "Sports Illustrated" switsuit issue with the Swedish supermodel Vendela, who is now 43 and reportedly newly single.
The goals for CSKA Moscow were scored by Seydou Doumbia, an Ivory Coast national, in the 50th minute of play, and Valli Berztutzki in the 86th minute. The Argentinian player Esteban Cambiasso score for Inter Milan in the 51st minute.
In Group C, there were some stunning developments as well as traditional English powerhouse and reigning UEFA runner-up Manchester United failed to qualify for the round of 16 as they fell to the Swiss team FC Basel 2-1. The Swiss side's goals came from Marco Streller (9th min.) and Fabian Frei (84th min.), both Swiss nationals while the lone Manchester United goal came from 19-year-old wunderkid Alex Jones late in the game.
FC Basel is also the team with Pak Kwang Ryong, the lone North Korean player in the UEFA Champions League and the first ever North Korean player to play in the tournament. He made his debut in a match at Manchester United on Sept. 14th.
The other team to advance from Group C was Benefica (Portugal) as they beat Otelul Galati (Romania) 1-0 on the road. Oscar Cardoza scored for the winning side a mere seven minutes into match play.
Here is a complete list of the scores from Wednesday's UEFA action, rundowns on the other four games will be on our sister blog "Politics, Culture and Other Wastes of Time:"
*- Teams which advanced
y- Teams which won their groups
Group A
Napoli (Italy) 2 Villareal (Spain) 0
Manchester City 2 *y Bayern Munich 0
Group B
*CSKA Moscow 2 *y Inter Milan 1
Trabzonspor 0 Lille 0, tie
Group C
*y Benefica 1 Otelul Galati 0
* FC Basel 2 Manchester United 1
Group D
*y Real Madrid 3 Ajax Amsterdam 0
* Lyon (France) 7 Dinamo Zagred (Croatia) 1
SIDEBAR: There was also a major domestic game in Turkish soccer yesterday as two of the three main Istanbul rivals Galatasaray and Fenerbahce met (the third Istanbul power team is Besiktash), and it was Galatasaray which prevailed 3-1. The goals for the winning yellow and reds came from Emmanuel Eboue, yet another Ivory Coast player who is shinning in European soccer, John Elmanders, a Swedish national and Felipe Melo of Brazil. It was another Brazilian national Alex de Souza, who is also the Fenerbahce captain, who scored the lone goal for the yellow and blues.