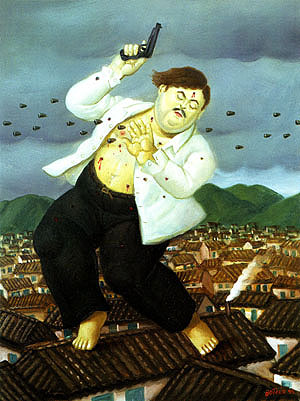 We continue our series of quotes from famous Latin Americans, with a quip from the drug lord Pablo Escobar (1949-1993) who was gunned down by authorities in his native Colombia at age 44. We are pretty certain that Escobar is the most notorious person we've ever quoted here, but we are not 100-percent certain of that.
Escobar made a bundle selling cocaine (yes, the Coke can is a joke). He was also heavily involved in the Colombian soccer scene, and in 1986, he actually entered domestic politics?!
The kingpin extraordinaire was also known for assasinations, bombings and political corruption. Amazingly enough, his mansion in Medellin is now a museum and a top tourist destination (No, we are not making this up!).
Here is his quote, which definitely seems ironic now:
"I prefer to be in the grave in Colombia than in a jail cell in the United States."