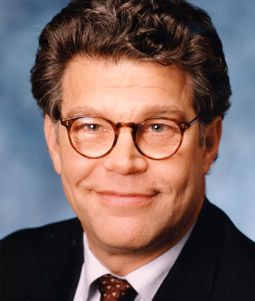 This is the first entry in this series since May! For today's piece, we choose the new U.S. Senator from Minnesota Al Franken (D) a former stand-up comedian and "Saturday Night Live" writer who now joins Sen. James Webb (D-Va)*, the co-screenwriter for "Rules of Engagement" as the only members of Congress with a screenwriting credit though I'm not sure Franken wants to fess up for "Stuart Saves His Family" (1995).
*- a presumption on our part
Here are some other fun facts about Franken:
_Born May 21, 1951, in New York
_Beat his opponent Norm Coleman by a mere 215 votes (out of 2.8 million votes cast)
_Author of #1 best-seller "Rush Limbaugh is a Big Fat Idiot."
_Appeared as actor in the 2004 remake of "The Manchurian Candidate."
_Hosted radio program "The Al Franken Show" (2004-05)
_Cousin of MSNBC's Bob Franken
_Wrote for "SNL" with partner Tom Davis from 1975-80 and again from 85-95.
_Created Sturat Smalley and interviewed Al Gore as Smalley for 2002 "SNL" show.
_Left "SNL" after losing Weekend Update segment to Norm MacDonald.
_Is first member of Congress who was a stand-up comedian, though amazingly enough Sen. Joe Lieberman (I-Ct) has performed stand-up as well!